Found this awesome survey by Jamie over at
The Perpetual Page Turner
! When completing this survey, I made myself use
only new reads
, no rereads allowed.
It should be noted:
If I don't like a book, I don't finish it. If I'm struggling to finish chapter one, the book gets put down. It's one of the reasons I don't do book reviews. So any book listed on my "Done Read It" lists had something going for them, enough to get me to finish them.
1.
Best Book You Read In 2011?
I hemmed and hawed over this one. BUT THERE CAN BE ONLY ONE HIGHLANDER.
The Hunger Games, by Suzanne Collins. I devoured it all in one sitting!
2. Most Disappointing Book/Book You Wish You Loved More Than You Did?
The Eye of the World, by Robert Jordan
I have nothing but mad respect for Jordan. The Wheel of Time world is complex and engaging. But the pace is kind of slooow for my tastes. I still kind of want to finish the series, though, so I may try the audiobook versions.
3.
Most surprising (in a good way!) book of 2011?
American Gods, by Neil Gaiman
This is one of those books that when you ask me what it's about, I'd say, "I can't really describe it, but it's so good. You gotta read it!"
4.
Book you recommended to people most in 2011?
The Leviathan series, by Scott Westerfeld
Gender-bending steampunk amazingness. And a perspicacious loris!
5.
Best series you discovered in 2011?
Another toughie! But I'll have to go with:
Mistborn, by Brandon Sanderson
I've been following his podcasts for awhile, but it wasn't until I read Mistborn that I finally understood why he's The Chosen One. (Chosen to complete "The Wheel of Time" series, that is.)
6.
Favorite new authors you discovered in 2011?
Brandon Sanderson
7.
Best book that was out of your comfort zone or was a new genre for you?
American Gods, by Neil Gaiman
We always say books should make us uncomfortable, make us ask questions and stretch our ways of thinking. This book will do that to you. (Seriously, you need to read this one!)
8.
Most thrilling, unputdownable book in 2011?
The Hunger Games, by Suzanne Collins
Could. Not. Put. Down.
9.
Book you most anticipated in 2011?
Goliath, by Scott Westerfeld
The finale of the Leviathan trilogy did not disappoint!
10.
Favorite cover of a book you read in 2011?
11.
Most memorable character in 2011?
Bovril (The Leviathan series, by Scott Westerfeld)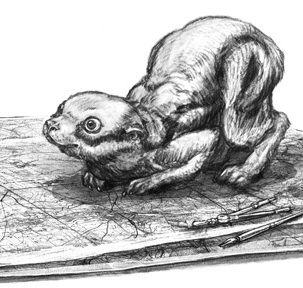 How many times can I put "perspicacious loris" in this blog post?
12.
Most beautifully written book read in 2011?
Gathering Blue, by Lois Lowry
No one can do dark, hopeless dystopia and then drop a single, glimmering tear of hope in the center like this author.
13.
Book that had the greatest impact on you in 2011?
Save the Cat, by Blake Snyder
Writing advice should always be this authentic, grounding, and hilarious.
14.
Book you can't believe you waited UNTIL 2011 to finally read?
American Gods, by Neil Gaiman
15. Favorite Passage/Quote From A Book You Read In 2011?
"Say 'Nevermore,'" said Shadow.
"Fuck you," said the raven.
―

Neil Gaiman

,

American Gods
16. Book That You Read In 2011 That Would Be Most Likely To Reread In 2012?
Save the Cat, by Blake Snyder
17. Book That Had A Scene In It That Had You Reeling And Dying To Talk To Somebody About It? (a WTF moment, an epic revelation, a steamy kiss, etc. etc.) Be careful of spoilers!
The Hunger Games, by Suzanne Collins
When I finished this book, I forced The Spouse to read it so that I could have someone with whom to go over my favorite scenes. It should be noted he is definitely NOT a YA reader. At all. And he found this book just as riveting as I did.
Book Blogging/Reading Life in 2011
1.
New favorite book blog you discovered in 2011?
The Bookshelf Muse - an awesome resource about writing and reading. Great articles for authors who are looking for ways to create well-rounded characters.
2.
Favorite review that you wrote in 2010?

My fave 7 words or less blurb:
The Short Second Life of Bree Tanner
, part of the Twilight saga, by Stephanie Meyer
[Saw that coming]
3.
Best discussion you had on your blog?
YA Highway Road Trip Wednesday #108: How far would you go (to get published)?
4.
Most thought-provoking review or discussion you read on somebody else's blog?
S. E. Sinkhorn's post on using the "r-word"
5.
Best event that you participated in (author signings, festivals, virtual events, memes, etc.)?
YA Highway's Road Trip Wednesdays - I've been able to connect with so many other amazing YA writers through this weekly meme
6.
Best moment of book blogging in 2011?
Connecting with other writers. Love you guys!
7.
Most Popular Post This Year On Your Blog (whether it be by comments or views)?
By views: My response to Road Trip Wednesday #109, on what gift would your main character love to receive. I think it's my gushing review of this backpack that got people's attention.
8.
Post You Wished Got A Little More Love?
I HAVE NO IDEA. Here, look at this bunny.
9.
Best bookish discover (book related sites, book stores, etc.)?
Good Reads - I'd dabbled in it off and on, but this year I got my lists organized, connected with others, and started following my fave authors.
10.
Did you complete any reading challenges or goals that you had set for yourself at the beginning of this year?
Challenge: Read 50+ books & 7 words or less blurbs
CHECK!
Looking Ahead...
1. One Book You Didn't Get To In 2011 But Will Be Your Number 1 Priority in 2012?
Clockwork Prince, Book 1 of The Infernal Devices series, by Cassandra Clare
2. Book You Are Most Anticipating For 2012?
Team Human
by
Justine Larbalestier and
Sarah Rees Brennan
3. One Thing You Hope To Accomplish Or Do In Your Reading/Blogging In 2012?
To read more widely. To expand my reading horizons, if you will!
How was your 2011 reading year?